Program News
---
Kendall Regional Internal Medicine at the ACP Meeting
Drs. Tudela and Godinez with Dr. Gascon (far left) presented at the Florida Chapter's ACP in Key Largo where Dr. Godinez won 2nd place in the poster presentations
---
Jeopardy Champions
Drs. Kruthika Krishnamurthy, Shilpa Kalli, and Parth Parikh took first place in the FL Chapter ACP Meeting Medical Jeopardy Competition! We are proud of them and congratulate them for all of their hard work in preparing.
---
Infectious Disease Poster Presentation
Drs. Nillian Zamot and Antoni Kafrouni presented a case of community-acquired MRSA diskitis and aortic valve endocarditis at the FL Chapter ACP meeting.
---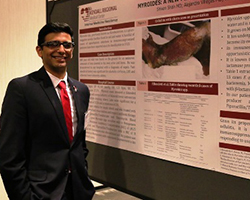 Sepsis Poster Presentation
Dr. Shivan Shah presented an interesting case of a patient who suffered septic shock from Myroides; an unusual cause of skin and soft-tissue infections.
---
Cardiology Poster Presentation
Drs. Kruthika Krishnamurthy and Matias Amaral presented a case of a young man with palpitations found with an unusual arrhythmogenic ventricular disease, ARVD.