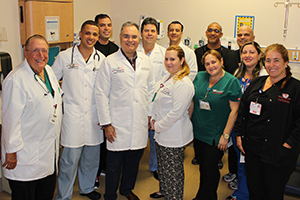 Children have a special place in our hearts and in our hospital. Kendall Regional Medical Center's Pediatric Emergency Department treats more than 20,000 children per year, which is why we provide a dedicated pediatric emergency department staffed by pediatricians and pediatric nurses and staff.
The pediatric ER treats a variety of children's medical conditions, from ear infections and stomach aches, to broken bones and cuts that need stitches.
We also treat the following:
Respiratory problems (including asthma)
Urinary problems
Rashes/ irritations
Lacerations
Vomiting and diarrhea
Intoxication
And much more...
The pediatric ER physicians are experts in the treatment of childhood diseases and injuries. No matter what health concerns you have about your child, you'll never have to travel far or wait long to receive the appropriate medical treatment. So when your child needs pediatric emergency care, get the most effective pediatric care possible. Visit the Pediatric ER at Kendall Regional Medical Center.
Also, the ER at Kendall Regional Medical Center offers comprehensive burn care treatment for infants and adults.
Hours: Open 24 hours
Phone: (305) 229-2413
We Accept Most Insurance Plans, Medicaid, and Florida Healthy Kids.