We encourage kids to come dressed in their Halloween costume while enjoying fun activities such as face painting, pumpkin decorating, pony rides, bounce houses and more. Delicious, healthy food and snacks, drinks and treats will be provided for free!
Join us at the Pumpkin Patch Party and Autumn Teddy Bear Clinic. We look forward to seeing you and your family at our Pumpkin Patch Party! Register today by signing up online or by calling (305) 223-3000.
Date:
Saturday, October 19, 2019
Time:
10:00am - 4:00pm
Location:
Doral Central Park
3000 NW 87th Ave
Doral, FL 33172
Superhero Safety Fair
With more than 2,000 costumed attendees in the past, Kendall Regional's annual Superhero Safety Fair has a way of bringing Miami-are friends and families together for a day of activities and entertainment. While children can get their faces painted, go on a pony ride and jump on inflatables, their families are invited to enjoy some free food and musical entertainment brought by local schools.
As an adult and pediatric trauma and burn center, we are committed to the education and prevention of accidents, injuries and burns. The Superhero Safety Fair is designed to help families with children prepare for a safe and fun-filled summer by providing educational health and safety activities focusing on water, bicycle, burn and fire safety. The superhero-themed event partners with police, firefighters, teachers and healthcare professionals and gives children the chance to meet their everyday heroes. Come dressed as your favorite superhero and enjoy a fun day at Kendall Regional's Superhero Safety Fair!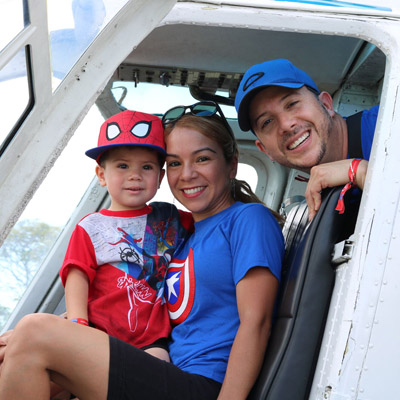 Join us at the Superhero Safety Fair and Summer Teddy Bear Clinic
We look forward to seeing you and your family at our Superhero Safety Fair—don't forget to dress as your favorite superhero! Register today by calling (305) 223-3000.
Location:
Kendall Regional Medical Center Main Entrance
11750 SW 40 St
Miami, FL 33175
Teddy Bear Clinic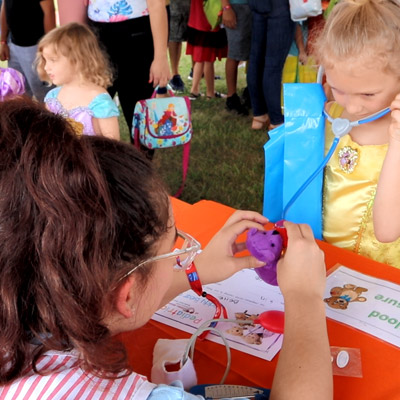 Your child's health is no playing matter, and staying healthy starts early. To help your child learn about health first-hand, we invite him or her to bring their favorite teddy bear or stuffed animal to one of our Teddy Bear Clinics.
Featured at each of our annual events, the Teddy Bear Clinic lets your child give their favorite bedtime friend a full "check-up", including a body mass index (BMI) calculation, a blood pressure screening and an X-ray, to see the importance of staying health in a fun way.