Contact Us
For any additional questions, please contact us at (305) 480-6602
How to Apply
ERAS: 1101100195
NRMP: 2232110C2
Welcome Letter from our Program Director
Thank you for your interest in Kendall Regional Medical Center's Emergency Medicine Residency Program.
Our three-year, fully ACGME-accredited residency program opened its doors in 2016 with the goal of training excellent, well-rounded emergency physicians.
Mission Statement
The Kendall Regional Medical Center's Emergency Medicine Residency program's mission is to develop the next generation of physicians and physician leaders. As a part of HCA Healthcare, we are driven by a single mission: Above all else, we are committed to the care and improvement of human life.
This program is designed to offer residents a rewarding, educational environment where residents are provided individualized learning opportunities by faculty and staff who support and sustain one another throughout quality care delivery. Our faculty are committed to ensuring the residents' clinical experience and educational needs are fulfilled while expanding residents' perspectives to be inclusive of cultures, values, and ideals.
Program Overview
Training & education
Kendall Regional Medical Center's (KRMC) Emergency Medicine Residency program is an accredited three-year residency program that offers 12 categorical positions per year.
Through its strong partnership with Florida International University's (FIU) Herbert Wertheim College of Medicine, the Emergency Medicine residents will have access to a state-of-the-art simulation center, the FIU library and other university resources. FIU also provides research, institutional support, rotating medical students and other resources at our fingertips.
The academic component of training is emphasized by a regular schedule of conferences with mandatory attendance. Progress in the program is monitored by evaluations for each rotation, as well as annual participation in the Emergency Medicine In-Service examination.
Residents are expected to participate in research as well as mentoring medical students. Participation in medical missions is also encouraged.
The KRMC trauma program is a multi-disciplinary team that includes Trauma Surgery, Emergency Medicine and Anesthesia. Our Emergency Department physicians are required to respond to every trauma alert and co-manage the trauma patient.
Program highlights
As you learn more about KRMC, our ER faculty, our patient mix and our institutional support, you'll find that it is an excellent place to train in Emergency Medicine:
Diverse faculty, including fellowship training in Pediatric Emergency Medicine, Public Health, Ultrasound, Simulation, Sports Medicine and EMS
Tertiary care receiving center for many hospitals across South Florida and the Keys
Accredited Burn Center, Level 1 Trauma Center, STEMI and Stroke Center
Annual census greater than 90,000 patients per year between our adult and Pediatric Emergency Department
Resident wellness
The Kendall Emergency Medicine Wellness Committee works to teach and to provide a healthy work-life balance for our residents.
We aim to meet this goal through dedicated monthly presentations, activities and/or small group sessions during our conference time. We seek to present information relevant to all: mindfulness, nutrition and exercise, coping with the difficulties of residency, financial wellness, stress reduction and preventing burnout, building and maintaining relationships.
We also strive to foster our EM community, working to organize outside social activities and events, so that all of us have the opportunity to participate in and enjoy a work-life balance with our families, friends and peers.
The Wellness Curriculum was developed with the intent to provide every resident with the knowledge and skills to have a happy, healthy, safe and fulfilling three years of residency here at Kendall Regional Medical Center and beyond.
Get to Know the Team
Valori Slane, MD
Program Director
---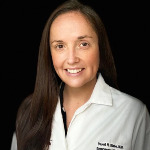 Curriculum & Rotation Schedule
Our expertly crafted programs are designed to provide resident physicians with all the experiences and training necessary for professional success.
Conference Schedule
The required weekly didactic sessions are scheduled every Wednesday throughout the academic year except for holidays.
Each session is five hours long. During each 18 month period, we will cover the core content of emergency medicine with a focus on learning objectives and teaching methodologies appropriate to the level of residency training. We are dedicated to our residents getting the most from every educational experience.
The didactic training content will be covered through a variety of educational methods such as:
Lectures
Small Group Discussions
Case Conferences
Morbidity and Mortality
Grand Rounds
Journal Club
Simulation
Simulation is a focal point of training at our residency program. Our affiliation with Florida International University gives us the privilege of the use of their state-of-the-art simulation center.
We run monthly simulation conferences where we focus on high acuity, low-frequency cases along with procedural skills and team building.
Ultrasound
The Emergency Medicine Residency at Kendall Regional Medical Center is dedicated to providing a strong and comprehensive experience in ultrasound.
Under the expert guidance of Dr. Moises Moreno, our Ultrasound Fellowship Director, and with the assistance of the ultrasound-trained emergency medicine faculty, you will develop a strong foundation in ultrasound performance and image interpretation.
Training will include identification of Abdominal Aortic Aneurysms, first trimester OBGYN pathologies, gallbladder pathologies, deep venous thrombosis identification, and traumatic emergencies, among other studies. We will teach you how to interpret results and guide resuscitations in real-time and help you improve your efficiency and delivery of care.
Salary & Benefits Information
The following salaries are for our ACGME programs during the 2020-2021 academic year:
| Year | Amount |
| --- | --- |
| PGY 1 | $53,884 |
| PGY 2 | $55,456 |
| PGY 3 | $57,162 |
| PGY 4 | $59,232 |
| PGY 5 | $61,687 |
Benefits
Health and disability insurance on the first day of employment
Educational allowance as per GME policy
Conference attendance as per program policy
Paid BLS/ACLS/PALS/ATLS as required by the program
Meals provided while working in the clinical environment
Lab jackets
Other items based on specific program need
FAQs