Emergency Care at Kendall Regional Medical Center
11750 SW 40 St
Miami, FL 33175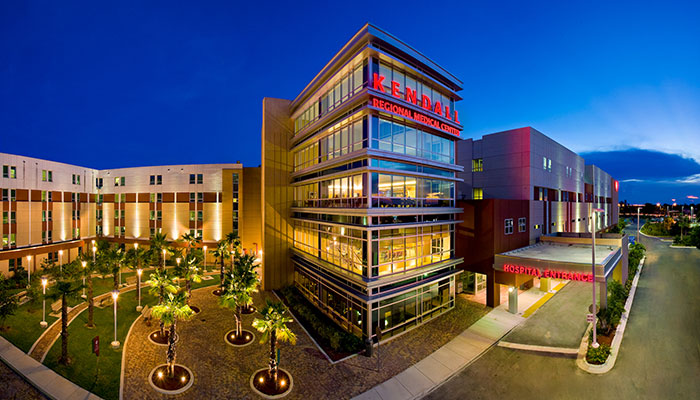 If you think you may be experiencing a medical emergency, immediately call your doctor or 911.
24/7 Miami-Dade emergency rooms
When a medical emergency strikes, you and your family can trust the medical providers at Kendall Regional Medical Center's ER, Doral ER, and Town & Country ER to deliver the care you need, when it is needed most. Our emergency rooms are conveniently located off the Ronald Reagan Turnpike.
Short ER wait times means faster treatment
Check out our current ER wait times
Our comprehensive emergency team, including board-certified emergency medicine physicians, specially trained nurses and physician assistants, has one goal in mind — to get you assessed, on the road to treatment and back to your life faster.
We have expertise you can trust in the most dire of emergencies — we are proud to be an Accredited Chest Pain Center and an Advanced Primary Stroke Center.
Pediatric ER

---
Children have a special place in our hearts and in our hospital. Kendall Regional Medical Center's pediatric emergency room in Miami treats nearly 20,000 children per year. We are committed to caring for the children in our community, which is why we provide a dedicated pediatric emergency room staffed by fully qualified and highly skilled pediatricians.
The ER staff, including board-certified physicians, nurses and other caregivers, is prepared to treat a diverse range of conditions ranging from a broken toe to more critical conditions like a heart attack.
Some of these include:
Heart attacks
Asthma attacks
Strokes
Allergic reactions (food and other allergies)
Heat strokes
Orthopedic injuries
Appendicitis
Alcohol poisoning
Concussions