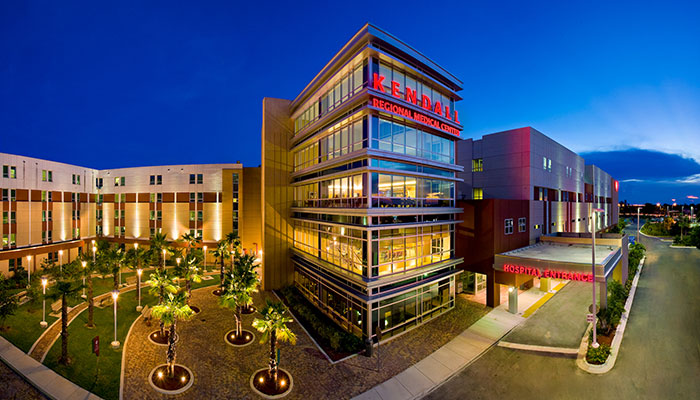 24/7 Miami-Dade Emergency Rooms
When a medical emergency strikes, you and your family can trust the medical providers at Kendall Regional Medical Center's ER and Town &amp Country ER to deliver the care you need, when it is needed most. Our emergency rooms are conveniently located – main ER just off of Ronald Reagan Turnpike, making it the ideal location for emergency care for the Kendall, University Park and West Miami communities, and Town and Country ER located just off Ronald Reagan Turnpike at Kendall Drive.
If you are experiencing signs or symptoms of Stroke or Heart Attack, please dial 9-1-1 immediately.
The ER staff, including board-certified physicians, nurses and other caregivers, is prepared to treat a diverse range of conditions ranging from a broken toe to more critical conditions like a heart attack.
Some of these include:
Heart attacks
Asthma attacks
Strokes
Allergic reactions (food and other allergies)
Heat strokes
Orthopedic injuries
Appendicitis
Alcohol poisoning
Conucussions
Emergency Info
---
If you or a loved one are potentially experiencing a life-threatening emergency, don't try to drive to the nearest emergency room. Call 911 for immediate emergency medical care.
Short ER wait times means faster treatment
Our hospital is always enhancing and improving our emergency medical care processes. Thanks to our efforts, Kendall Regional Medical Center's emergency room has dramatically reduced our average ER wait times to well below national averages.
Check out our current ER wait times

---
Children have a special place in our hearts and in our hospital. Kendall Regional Medical Center's pediatric emergency room in Miami treats nearly 20,000 children per year. We are committed to caring for the children in our community, which is why we provide a dedicated pediatric emergency room staffed by fully qualified and highly skilled pediatricians.
What to expect at our emergency room
Triage
A triage nurse will assess you upon your arrival and will evaluate your chief complaint and vital signs. Your priority of treatment is based upon the severity of your illness, as determined by the triage nurse. Patients who are determined to be emergent will be taken to the treatment area immediately.
Registration
The registration clerk will obtain information for your medical record, including billing information. All patients will be medically screened, evaluated and stabilized regardless of insurance or ability to pay.
Waiting room
If you are stable, you may have to wait for a bed to become available. You will, however, be made as comfortable as possible while you wait and the staff will keep you advised as to the status of your visit.
Emergency-Related Health Content
---