Kendall Regional's Trauma Center is the First in South Florida to be Verified by the American College of Surgeons
Kendall Regional Medical Center's provisional Level I trauma center increases access to trauma care for patients in Miami-Dade and Monroe Counties.
Kendall Regional Medical Center's primary focus is to provide optimal care to all acutely injured pediatric and adult trauma patients. The care provided is rendered by a multidisciplinary trauma team that includes pre-hospital personnel, Trauma Surgeons, Emergency Medicine Physicians, specialist consult physicians, nurses, and ancillary staff. Specialty areas of the hospital provide specific functions that are integrated into a pre-established organized system of care for the most severely injured patient.
Trauma Center differs from a typical emergency department in that it is equipped to provide specialized, comprehensive emergency medical services to patients suffering traumatic injuries. A key component is having a trauma surgeon at the patient's bedside within minutes after notification of the arrival of a patient judged to be in need of rapid assessment of injuries, which is a critical factor in successful treatment. The Trauma Surgeon is the captain of a Trauma Team that is rapidly assembled before the patient arrives. EMS triages patients according to the seriousness of their injuries, and transports the most seriously injured to Kendall Regional Medical Center South Florida Trauma. The specialized training, experience, and skills of the center's surgeons, physicians, nurses, and staff have been responsible for saving hundreds of lives and hastening patient recoveries at every stage of the process.
The hospital is proud to be working with USF Health in the provision of trauma care to Florida's most southern counties.
Trauma Services Support Group
The Trauma Support Group at Kendall Regional Medical Center will help the relatives of our trauma patients deal with the concerns and problems faced by those who are recovering from serious injuries. Our Trauma Team understands that the recovery from trauma can be very long and difficult. For this reason our support groups will provide the families ongoing support, and understanding. It is through positive group interactions we can provide support and hope that your loved one doesn't remain a trauma victim forever, but becomes a trauma survivor.
The support group will also help those dealing with grief/bereavement.
Location & Time
The support group meets Wednesday at 3:00pm in the conference room in the ICU lobby.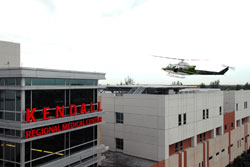 In the News