Level I Trauma Center in South Florida
The primary focus of Kendall Regional Medical Center South Florida Trauma is to provide optimal care to pediatric and adult trauma patients. We are proud to offer the highest level of trauma care to the Miami community in our state-of-the-art Level I Trauma Center.
We earned the designation of Level I Trauma Center from the Florida Department of Health and are verified as a Level I Trauma Center by the American College of Surgeons. We are one of only two trauma centers in all of Miami-Dade and Monroe counties to earn this designation.
What is the difference between a trauma center and an emergency room?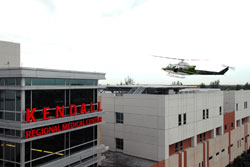 A special division within our emergency department, a trauma center differs from an ER in that it is equipped to provide specialized, comprehensive emergency medical services to patients suffering extreme, life-threatening injuries, such as gunshot wounds, severe burns and traumatic car crash injuries.
A key component is having a trauma surgeon at the patient's bedside within minutes of a patient's arrival. Rapid assessment of injuries is a critical factor in successful treatment.
Features of our Level I Trauma Center
Our Level I Trauma Center in Miami offers:
Highest level of trauma care available
Trauma surgeon on site 24/7
Immediate access to a full range of specialists
Dedicated operating room for trauma surgery
Latest technology and most advanced equipment
Anesthesiologist available 24/7
Continuance of care through physical therapy and rehabilitation as well as behavioral health services
Support group for trauma patients and their families
Commitment to teaching and research efforts related to advancements in trauma care
Trauma education and prevention to local communities
Trauma team
When emergency responders notify Kendall Regional that a patient is being transported to our trauma facility, a multidisciplinary trauma team with specialized training, experience and skill is rapidly assembled before the patient arrives.
Our trauma team is led by a trauma surgeon and may also include:
Emergency medicine physicians
Neurosurgeons
Heart surgeons
Orthopedic surgeons
Radiologists
Trauma nurses
Respiratory therapists
Paramedics
Case managers and/or social workers
Trauma center locations
Retrieving location data...